How it Works
Overview
PayBhutan offers a convenient and easy way for businesses and organizations to start accepting online international payments using their merchant accounts received from the Bank of Bhutan.
The merchant account acquired from Bank of Bhutan does not allow merchants to receive payments right out of the box. For it to work, it needs to be integrated into the merchant's website. This process requires extensive knowledge about the bank's gateway API and time to implement and test the integration. Also, if integrated into a merchant's website, the merchant has the additional task to keep their website secure and informed of new updates to the API.
With the fully tested and secure service from PayBhutan, this process has been simplified to just entering the merchant details into the merchant's user account with PayBhutan. Compared to weeks or months a merchant would take to implement this integration on their own, with PayBhutan it would take only 5 minutes to setup their account and start receiving payments.
The PayBhutan dashboard provides an easy way for a merchant to manage invoices, payments, transactions and their accounts.
Security & Data Privacy
PayBhutan employs a strict security and data privacy policy. Besides end-to-end encryption of data communication, no customer card details touch PayBhutan's servers. All credit card transactions are carried out on secure third-party payment gateways with PCI-DSS certification. PayBhutan also allows merchants to omit customer details, if they so wish to.
Easy Integration with Merchant Websites
Besides offering easy invoice generation from PayBhutan's user dashboard, merchants also have the option to send payment requests from their own websites. Integration with websites can be done simply by creating an HTML form on the merchant's website.
Steps to start accepting payments through PayBhutan's user dashboard
1. Signup with Bank of Bhutan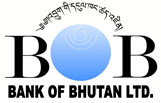 If you don't already have a merchant account from the Bank of Bhutan, you will need to avail one by visiting a BOB branch. This will take 1-3 weeks and you will be provided with the merchant configuration details after completion. Download Form
2. Setup PayBhutan account
Visit our office located at Changzamtok, Thimphu and sign up for a yearly subscription plan. You will then receive credentials to access your dashboard from where you can setup your account using the merchant details from step 1. You can also customize your account with your own company logo, payment messages, etc.
3. Generate an Invoice
From your PayBhutan dashboard, you generate a new invoice by entering its details (customer name, currency, amount, etc.). After the invoice has been created, a unique payment link will be displayed for the invoice. You can either share the link or email the invoice to your customer directly.
4. Customer Payment
Your customer visits the payment link and is displayed the invoice to pay. The invoice is customized with your company logo, address, and other settings you have defined during invoice generation or account setup. The customer can then review the invoice and pay it using their VISA or Mastercard credit/debit card.
5. Receive Payment
You will receive an email instantly alerting you about a successful payment from your customer. The received funds will then be available in your BOB bank account the next business day.
Now isn't that simple?
If you are interested and need more details, we'd like to talk to you.